Go Back
LAHX60 | Info-Gel
LAHX60 is a thixotropic hydrogen scavenging compound suitable for filling and/or flooding optical fiber cables used in harsh environments, including OPGW, Submarine, and Downhole applications. Its cold temperature effectiveness has been qualified at -60°C.
Hydrogen Scavenging Gel with Viscosity @ 8,500 cP.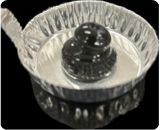 Contact us for more information and technical data sheets
Download Our Product Selector Guide
Download our product selector guide to see which of our products work for your industry, type, and applications.
Download PDF