Go Back
FC28 | Info-Gel
An ETPR-type thermoplastic rubber used in flooding applications for copper and/or aluminum cables. The standard version has a drop point of 90°C and will be a solid below this temperature and a liquid above it.
Excellent water resistance, rust and corrosion protection. Viscosity 300 SUS @ 150°C.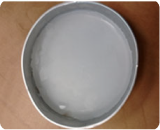 Contact us for more information and technical data sheets
Download Our Product Selector Guide
Download our product selector guide to see which of our products work for your industry, type, and applications.
Download PDF